Welcome to my latest eMagazine.
This month's edition contains important news on the Post Offices in the Inch and Moredun. In Parliament, as usual, there is plenty of Brexit news to report, as well as updates on the ban on neonicotinoids and animal sentience.
You can also find details of my Remembrance Sunday engagements and a debate I hosted in Parliament on the life and legacy of Elsie Inglis and the role of women in the Great War.
As ever, please use the contact details below to get in touch if you feel I can help out with anything.
Casework
Constituency
Westminster
Planning
House of Commons
Select Committees
Media
Notice Board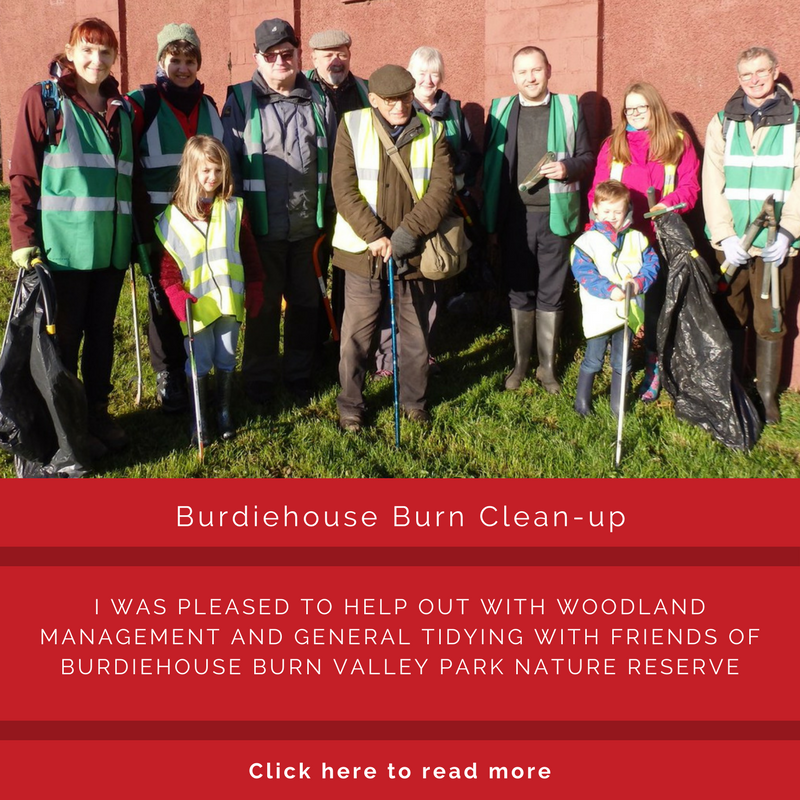 Canaan Lane
Residents in Morningside may remember that a recent application to turn the old public toilets on Canaan Lane into flats had been rejected.
More good news- the developers appeal to the Scottish Government has also been rejected. Residents should expect another application but hopefully this time it will be more in keeping with Morningside and the surrounding areas.
Sick Kids Site
The new developer for the site held their first public exhibition on 28th November. If you didn't manage to make it, it's not too late, the plans are available here (click this link).
It is important that the developers receive as many of responses as possible. So if you didn't make it to the exhibition or still haven't completed one of their forms, you can contact: consultation@holderplanning.co.uk in the next week to obtain a questionnaire. All the responses will be summarised by Holder Planning, as part of the official planning process.
Further public meetings are scheduled for the New Year. Details below:


Commonwealth Parliamentary Association (CPA): oppertunity for 18-25 year olds
CPA UK will nominate two young people (age-range 18-25) to attend Commonwealth Day celebrations on Monday 12 March 2018.  The programme will include discussions about the Commonwealth, debates on current affairs, attendance at the Commonwealth Observance in Westminster Abbey and attendance at the Commonwealth Secretary-General's evening reception.
If you are aged between 18 and 25 and have an interest in the Commonwealth, an interest in current affairs, and evidence of leadership skills, apply by sending me an email with your name, address and contact details and I will refer you onto the CPA.
---
Living Wage Statistics for Edinburgh South
Low pay:
In Edinburgh South, 17.0% of workers, 19000 in total, earn less than the voluntary Living Wage, a rate calculated on the real cost of living. In Scotland, this figure is 19%, a total of 430,000 people.
Poverty:
Gross domestic household income in Scotland is currently £18315, £791 below the national average, while the rate of relative low income (after housing costs) is 19%.
The 2017 child poverty rate in your constituency is 13.7%
Living Wage employment:
The largest Living Wage accredited employer headquartered in Edinburgh South, is Bluebird Care Edinburgh (J + J Perry Ltd), while Vegware gave the most number of employees a pay rise when it became accredited. Check out our employer map at www.livingwage.org.uk/employer-map for more local data.
To find out more about how you can work with the Living Wage Foundation to increase the number of accredited employers in your constituency, please contact us at www.livingwage.org.uk/contact-us.
---
Update from Police Constable Alistair Murdoch on Colinton area:
We have had an increase in incidents of garage break ins in the Colinton area in the last week whereby garage doors are bent open and motorcycles and bikes have been taken. Thanks to some vigilant members of the public, the culprits were disturbed on a few occasions and stolen property was recovered by officers close by. Please be vigilant and increase your garage security if you have anything valuable within. We suggest you secure any motorcycles or pedal cycles within your garage, add some bolt locks to your garage or get a shed/garage alarm. All these options are fairly cost effective.
If you hear or see anyone acting suspicious in your area please phone us on 101 or if you believe there to be a crime in progress, 999.
---
Transition Edinburgh's new project  "Pathways to Zero Carbon Edinburgh"
What? In order to tackle climate change, we need to provide real solutions: to identify "pathways" to a Zero Carbon future by showing what's working well, fostering the spread of knowledge and building capacity of local change-makers.
Who?Our community group Transition Edinburgh wants to promote grass-roots solutions to our Edinburgh and Scotland-wide networks for more sustainable lifestyles.
How?
1. By further developing our online Zero Carbon Edinburgh platform www.zerocarbonedinburgh.wordpress.com into a fun tool for individuals, communities and businesses to get inspired by the many ideas already collected to lead a more sustainable lifestyle.
2. By organising monthly "Zero Carbon Edinburgh Tours" for interested individuals as well as local community and educational groups. These unusual city tours will showcase a selection of the existing low-carbon examples such as energy efficient buildings and community gardens around Edinburgh.
3. By organising three collaborative events at the Edinburgh Fire Starter Festival in January and February 2018. These workshops will kickstart cooperation of communities such as food growing associations and city planners to make public services greener.
4. We will reach out to businesses by organising one-to-one and sectoral engagement meetings with local businesses in five of the city's key carbon-emitting sectors:  Health, Transport, Construction, Waste & Packaging and Food. We will take note of obstacles to implementing sustainable measures and propose the use of more appropriate practices at the workplace like carsharing for staff.
When?  January-December 2018. We are currently applying for funding for this project from the Aviva Community Fund and we would very much appreciate if you could secure its funding by voting for it.
Here is the Zero Carbon Edinburgh project link where you can cast your vote: this should work, if not use the longer one below       https://goo.gl/mubEzy
https://community-fund.aviva.co.uk/voting/project/view/17-5662 (voting is open 21st November 2017)
It would also be great if you could spread the word about this initiative in your networks
https://transitionedinburgh.org.uk
---
The Green Heart has become a well-recognised symbol of support for addressing climate change. We are therefore delighted to invite nominations for our first everGreen Heart Hero Awards to celebrate the fantastic work being undertaken by individuals and groups across Britain to tackle climate change. There are 10 award categories, ranging from Greenest School and Best Green Business to Greenest MP.
To see the categories, nominate a person or group for an award and for more information on our work please visit: https://www.theclimatecoalition.org/green-heart-hero
---
---